Best Concrete Driveway Contractor
Serving Palatine, Rolling Meadows, and Arlington Heights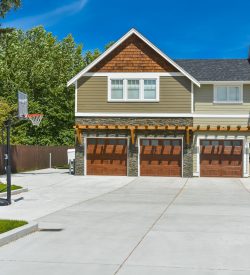 #1 Concrete Driveway Contractor Serving Palatine, Rolling Meadows, and Arlington Heights
At NGT Concrete, our clients come first! For this reason, we endeavor to be there at every step of the way, from the day you contact us to the day we finish the job. When it comes to a concrete driveway, no project is too much for us to handle. From repair work to bringing a brand new concrete driveway to life, we can make any vision you have a reality. Not to mention, NGT Concrete provides you results that are consistent, top-notch, and have the best value. Regardless of what concrete driveway project you have in mind, you can rest assured that we have contractors that fit the bill. We dedicate our efforts to delivering the best results the first time, so our clients have an optimal experience.
Best Concrete Driveways
Over the years, concrete has become the most popular option for paving driveways. After all, the material is durable, low-maintenance, versatile, and even offers several designs. However, the fame of concrete driveways does not make finding professional contractors any easier; until you come across NGT Concrete, of course! Serving the cities of Palatine, Rolling Meadows, and Arlington Heights, we aim to deliver nothing less than the best. As our client, you can expect service from a team with considerable experience, expertise, and unfailing results.
What is about us that ensures your complete satisfaction? Well, not only will you be working with expert contractors, but what really sets us apart from others is that we also use the highest-grade materials. We attend to every client's concern because we want to deliver more than just the best concrete driveway; we want to provide the best experience. At NGT Concrete, we also give due attention to your finances. We provide you the best concrete driveway the first time to save you spending money on future repairs and replacements. Yes, we treat your driveway like the investment it is so that you expect the highest returns from us!
We strive to save both your costs and your time, so our focus is always on-time completion. With our team of professionals, reliable service is something that goes without saying. No matter what your concerns and questions are, NGT Concrete is only a call away. Give us a call and our team will be happy to answer any questions you might have.
When it comes to a concrete driveway, you want only the best of the best on the job. Well, NGT Concrete is the best of the best! Count on us to provide you project satisfaction that is immediate and carries into the future too.
Once you experience our service and see the results for yourself, we guarantee you will be back for more. So forget how big or small the project is, and ring us up to make your concrete dreams come true!
Frequently Asked Questions
In this section, we answer some of the most popular questions customers have for us. Go through them to see if these are some of the concerns you have as well!
What kind of projects do you take up?
When it comes to concrete driveways, there is no project we refuse! Be it constructing a new one, repairing an old one, or just sprucing up the design, we do it all.
Which cities do you serve?
We work in the state of Illinois and currently serve Palatine, Arlington Heights, and Rolling Meadows.
What do I look for in a concrete contractor?
While it may seem daunting to find the perfect concrete contractor, it does not have to be! Keep these tips in mind before you set out on your search for the best one:
Get in touch: We offer a quick response time and accessible support for any queries and concerns.
Estimate costs: You can expect complete transparency about project costs from us and the best value.
Project Time: We provide clear communication on the duration of the project.
Sample work: You can expect samples for assurance that we are on the same page.
Official contract: We keep everything by the books so you can expect a signed contract from us.

Expert Contractors
There is a reason why our clients love us - and that is because we are experts at concrete driveways.

Affordable
We aren't here to rip off our clients - we are consistently rated as one of the most budget-friendly contractors in the Chicago area.

Quality Work
Providing quality work is our highest priority. We will always go the extra mile to make sure that every client of ours is 100% satisfied.
"NGT Concrete did an amazing job with our driveway. We couldnt be happier with the work that they did for us. Our neighbor liked our driveway so much that he hired these guys to build their as well. Great job and thanks for the awesome work!
"I highly recommend NGT concrete if you are looking for a solid concrete driveway. I hired NGT after working with another contractor who didnt really know what he was doing. NGT concrete exceeded our expectations.
"I usually will not leave a review but NGT did such an amazing job with our driveway that I had to to share my experience. If you are looking for a concrete contractor who knows what they are doing > then just call these guys. You will be glad you did.